LÄTI KOOMIKSI AJAKIRJA "kuš!" ON VÕIMALIK OSTA KOOMIKSI BIENNAALI AVAMISPÄEVAL, Kultuuritehases Polümer, Galeriis Art Container 18.00- 20.00. Koomiksi ajakirjad ei valmi puu otsas. Koomiksi Biennaali külastavad David Schilter,
Dresvyanina

Ekaterina, kes räägivad, kuidas see tegelikult toimub...
http://www.komikss.lv
kuš! on Läti rahvusvaheline koomiksiajakiri. Asutatud 2007. kuš! korraldab ka töötubasid ja näitusi et populariseerida koomiksit lätis ja tutvustada Läti koomikseid ka väljapool riiki. Ajakiri ilmub ebaregulaarselt, Inglise keeles ja on odavalt soetatav aadressil
http://www.komikss.lv/?section=shop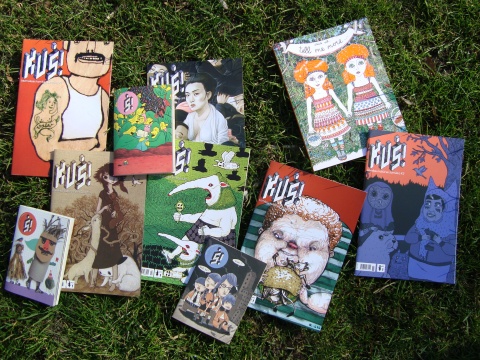 Latvian Komikss

In Latvia there is no comics tradition. The last notable publications where in the End of 80's and beginning of 90's. They were mainly aimed at children and for building up a national identity. So there were three comics books which came out between 1986 and 1989 containing comics about Latvian folk tails about the national heros Lacplesis or Kurbads, or other comics telling about famous places in Riga and their history. Next to these more educational comics the books also contained some plain entertaining children stories. Amazing about this books is, that they had a copy number of 100'000 to 150'000. So practically every child had a copy. So if nowadays you show some torn copy to some tweens, immediately their eyes start to glare and they get nostalgic feelings.
In the beginning of 90's came out the Comics magazine "klips", it survived for 4 issues, but didn't reach a similar popularity like the other books. From the comics content it moved West from the folk tales to modern tales about space ships, aliens and superheros. Still mainly aiming for young teenagers, but also containing single more alternative stories designed for a more grown-up audience.
After 15 years of Silence in 2007 the Latvian Comics scene is starting to move again. In the summer the komikss magazine kush! was born. Unlike the Latvian Comics publications from the past kus!'s audience are not children. It comes out every second month and has a different theme every issue and publishes alternative International and Latvian comics with the aim to develop the komikss culture in Latvia. Under the published authors can also be found some stars like Charles Burns, Dupuy&Berberian, Mawil, Thomas Ott, Ruppert&Mulot, Moki, Tommi Musturi and Joonas Sildre, among lots of others. During the first year of kush! there could be seen a real developement in the Latvian scene, the magazine contained from issue to issue more and better comics from Latvian artist. After one year of publishing kush! A parallel publication in smaller format was developed: sh! Sh! Is released all in English and is smalle, but otherwise the content is comparable to kush! Next to publishing the magazine kush! organized different events like an exhibition of Swiss Fanzine star König Lüq, an animation movie night or a workshop with the two German avant-garde artists Henning Wagenbreth and Markus Huber, an International Comics exhibition in the February of 2009 in cooperation with the Latvian centre for Contemporary art and lot of other exhibitions within and outside of Latvia. Parallel to kush! but a bit later the project komiksi.lv was established in Latvia. It was a webbased project which wanted to promote Comics also for the mainstream public. The people of komiksi.lv also collected all the prior Latvian comics which they could find in the Latvian national Library and published them on their webpage next to contemporary comics and comics from amateurs, which were invited to send in their works too, unfortunately this attempt was already closed after an operation period of only half a year. But kush! Is continuing and next to some Latvian webcomics the only serious publication in Latvia.
Something is happening in the Latvian scene and also abroad Latvia starts to get more and more attention, let's hope for further development!