ESTONIAN COMICMAKERS- WHO THEY ARE? (not final...)
Small interviews with participians :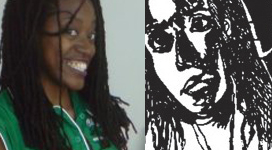 AVANTIA DAMBERG (special guest, comic activist form Kingdom of the Netherlands)
http://www.howgreatthou-art.com/
My name is Avantia Damberg. I am an artist from the Dutch Caribbean, and I operate both in Curaçao and Amsterdam, the Netherlands. I'm still in the early stage of this field but my interest and passion for it were already there since childhood. I am a big fan of graphic novels that are about daily life and things people go through. What triggers me to create them...I like the black and white atmosphere of graphic novels and the simplicity of the style, without too much details, that can still have ambiance and the thinking world of the characters in the book. I would like to continue to make graphic novels about my own thinking, dreaming, and the emotional world I live in. So my work is quite personal. What is my impression on Estonian comics? I need to go to the festival first to give an impression :D

Do you use some specific way of visual storytelling?
I like to draw from a camera lens perspective. I also draw from my own body perspective. Often you see part of my body, like my arms or legs, because you see everything through my own eyes. I take pictures to get the perspective I like, from those pictures I make drawings just with markers or thin liners. The drawings I stylize a bit in Illustrator (By making them vector-based I smooth them out a bit.) I edit the texts, colors and brightness etc in Photoshop.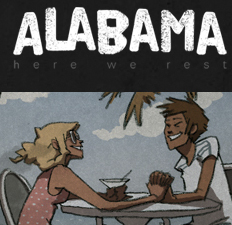 ALABAMA TEAM (Here we rest)
www.herewerest.com
ALABAMA TEAM (Here we rest) www.herewerest.com
The team consists of: Aleksei Nehoroshkin (born 1984) from Tallinn, Estonia, works as a
writer and page layout/sketch artist and is a co-founder of Alabama. He currently also works as a 2d graphics / game designer.

Anna Afanasyeva from Obninsk, Russia 1982 works as an artist, colorist and character designer and is also a co-creator of Alabama. Currently working as a concept artist for various feature-length animation projects, character designer for various outlets etc. She is a member of Honk-Fu studios. http://honkfu.com/

"Alabama" is their ongoing comic book series in the classic american 24 page per chapter format. It is planned to have 2 seasons of about 10 chapters each to form a finished graphic novel. Currently the prologue side-story and first introductory mood-setting chapter are publicly available on the official web-site. Second chapter, kicking off main events will also be released to the public in spring 2010.

Their book is about a quarantined town where people are under threat from unknown outside forces. It is mostly a character driven drama, with plots about power-struggles, fear of the unknown, animalistic side of the human condition and lots of mystery yet to be revealed.



VEIKO LIIS
Veiko Liis is a 30 year old production designer, (Estonian Academy of Arts design graduate), working at the company Taikonaut. I draw comics in my spare time. I started drawing comics for a local school newspaper named "Little Friend" when I was 14 and had to produce one after every 2 weeks. Afterwards, I started working at the newspaper Sõnumileht, on sundays extra, called "Jõnn ja karud", "Jõnn and bears". After that, I've been doing works for various publications: youth magazine Säde, newspaper Eesti Ekspress, magazines: COM+, Eesti Jahimees, Autobild, Praktiline arvutikasutaja, PC World, Nädal ja Toyota Plus. " I view making comics as a production. Scenarios are made out by Ronnie. We started to cowork with him on 2000, while making a series of "Badblock" comics for the newspaper Eesti Ekspress. After that I concentrate on creating as bright characters as possible. Materials are scanned and coloured in computer as a final stage. Further artwork in the comics field could be connected with production of studying materials. Nothing available online, though. "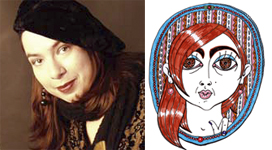 INGRIDA PICUKANE
(Latvia, guest)
She has studied art in Estonian Academy of Arts and Art Academy of Latvia.
I entered the field with help of first Latvian comics through magazine "Kuš!" some three years ago – before that, I drew comics in my early childhood just for myself. After my first comics in "Kuš!" I became interested in the comic's way of thinking and organizing space and I made the comics of "SLAVA and chemistry": I painted the story straight on the old post–Soviet chemistry white tiled laboratory walls – this was very exciting experience. I still cooperate with Latvian comics magazine and probably I would have probably never appeared in the comics field without help from "Kuš!" because of my laziness.
What triggers you to create them... Actually the same as in animation: I am not a professional writer and this is the possibility to tell the stories by using my drawing skills. I like to draw and want to become famous.
About upcoming works: Hmmm… Hmmm. It depends on next "Kuš!" theme (every magazine has a special theme). "But seriously I hope that I will have enough patience to draw all stories I have in my head and one of the main things that are important for me now is making something about my personal experience, collecting memories/atmosphere from Soviet and post-Soviet times that are disappearing (apparently I am becoming old). So the next one most probably will be something about my childhood.
Your impression on on Estonian comics: Hmmm... Hard question. To be honest I have to say (I'm totally ashamed of myself now) that I do not know a lot about Estonian comics. I saw this and that in some exhibitions (one was the part of "Animated Dreams" animation festival) and I heard that there was a large Estonian comics book published last year, but unfortunately I still haven't seen it. And so far I haven't heard anythiung about any regular magazine in Estonia as comic's magazine "Kuš!" in Latvia. "
Any methods or principles you always follow in storytelling, that you'd like to share? "My specific way of storytelling is no specific way of storytelling. I do not consider myself as "real/pure" comic's artist because I have not done so many comics and I am more interested in experimenting and playing with different media principles and potentials to tell the stories or to transfer feelings and the most interesting part for me is to catch the most proper style to particular story therefore almost in every story I have different style and way of storytelling – and I am still not sure is it an advantage or a disadvantage. Currently, I am particularly interested in making something more "sensual", using also 3D things in addition to 2D drawings – maybe because I am making my first puppet animation film now.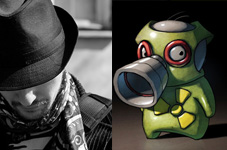 ED LABETSKI http://painted.planet.ee/
I was born in Kohtla-Järve. I'e been living and working in Tartu, Tallinn and Southern Spain. Always in a visual field. Design, illustration, comic, painting, advertising, animation. At the moment I work in advertising agency Division an AD. I've been comics making for a long time now. Dont eaven remember how it started. Usually there's been help fomr a skillful writer. In case of web comic UNITUBE, that was Anton Masik. The next book, KALEVIPOEG is analysed, adapted and written by Ago Visak.
Do you use any special storytelling methods while making your comics?
"It varies. In case of webcomic Unitube, it was important that I would have fun and that it would be filled with witty things, which we were figuring out with Anton. Even though reader would not get it all. Challenge was to drive a non-linear story further, using minimal options with surreal elements. About the next work: It is a book, based on Estonian national epic KALEVIPOEG. In case of KALEVIPOEG, the main goal was to depict the story as realistically as possible and turn it into as readable and beautiful as possible. So the main task is to create an national epic in enjoyable form. Something else about the next piece: Both the UNITUBE and KALEVIPOEG are having their priority. One more story is on the shelf, in steam- punk style, by Anton Masik (but I wouldnt wait for it yet.) Right now, my priority is to get KALEVIPOEG into a form and quality that it deserves.

Online comic UNITUBE is available at:
www.unitube.net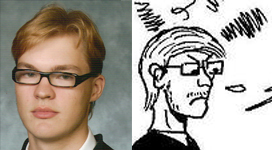 KARL ERIK TALVET
http://www.jukara.deviantart.com
Before I drew without thinking much of the content but recently I have tried to be more selective, to deal with existential and human issues. There is not enough of it over here. This is my impression but maybe it is from lack of my own research.

About Estonian comics: I don't like the word "koomiks" in Estonian language, because in my opinion this term is mis-used. Sure, it is coming from the English word "comic", a reference from word "comical", in English. In my opinion this is wrong because the comic must not necessarily be comical. As in films and books, there are more and less funny or horrifying stories for younger and older people.... There are different ones but that word puts them all under one hat. Maybe thats why comic art is so unpopular in Estonia. The French word "bande dessinée" (shortened BD), means "a drawn strip" is in my opinion used in much better way and makes more sence. Unfortunately there is no good word for that in Estonian language, but some possibilities could be: "pildiriba" (pictue strip), "joonislint"(drawn band), "piltjutustus" (picture story), etc.

My methods of storytelling: I used to do a lot of stuff I don't like that much any more. I got some idea related to the keyword and I immediately started to draw, usually without knowing where I want to develop the story and where to end. I'm more careful now. When I get an idea, I try to write it down from beginning to end, to find out where I want to arrive. If possible, I also sketch down all pages to get the first idea of the final form. My inspirations are artists like: Hergé, Edgar P. Jacobs, or Zep. Hergé is my idol, especially because of his graphics. I also like the graphic handwriting and narration styles of Jacobs. Zepil has sense of humour and handwriting which has inspired me to making comics with humour. I do my works manually.

What could be an ANTI- COMIC? I dont like Japanese mangas, they're siply too different from my taste. All faces are so similar and graphic side tends to be become syrrealistic and absurd. I am also not the greatest fan of American comics, because I see nothing else than fights, superheroes and so on in them. Sure there are exceptions but generally speaking, I don't like them. A good comic is first of all good script. When the content is boring, it won't be popular despite brilliant drawings. It is difficult to draw and depict boringness without making a reader feel bored.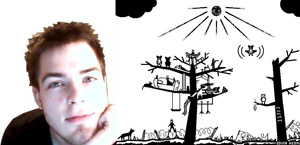 EDWIN AEDMA
I spent my warm childhood in a family of intellectuals. Soon after that, I found myself graduating a BA course in culture studies & semiotics. Next, I studied in universities of USA (West Virginia University) and Russia (Voronezh State University) and received a MA degree in written translation (University of Tartu). So far, I've published two collections of short stories – Inimene ja draakon (A Person and A Dragon) in Estonia, and The Lost Switch in USA. My comics have been published in two Estonian national comic anthologies, Estonian largest weekly newspaper Eesti Ekspress and art magazine Müürileht.
In my works, I try to reflect the warmth & beauty of this world, while aiming for perfection of minimalist form, style and content, with stories often composed of only a few lines and comics similarly void of excessive information. Still, I sometimes play with art featuring rich and colorful style/content that encaptures the viewers that prefer to use less imagination and more eyes. I also write/draw about less bright topics like sadness, loneliness or even extremely dark grotesque, but I avoid turning it into a pornography of pointless violene or fuel for self-pity and depression which are so common in the modern creation.
Comics have been a natural part of drawing for me, and (internet) comics were also the subject of my BA thesis. Lately comics, animations and cinema have become just different sides of the same sphere for me and I experiment with all of them.
I am always looking for interesting literature/game/comics/film/art projects and hope this little interview here inspires someone to contact me and create something fabulous together! :D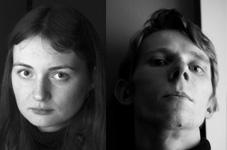 ELINA SILDRE
http://web.zone.ee/elinasildre/
JOONAS SILDRE http://web.zone.ee/sildre/
Joonas Sildre and Andreas Trossek have done a lot to document the Estonian comics scene. Some of that work can be seen at
http://www.hot.ee/koomiks/
What are advantages of working in the genre of comics?

Joonas: The creator doesn't have to be good both in drawing and writing. It is enough when he's able to do both at the medium level. Quality is achieved when images and text are combined skillfully.

Elina: For me, reading a good comic is much easier than reading a book or watching a movie or animation. Adult-oriented comics can present a higher artistic experience which are rarely seen in other forms of art, especially in Estonia.
What kind of storytelling you use for comics?

J: I try to find some stylistic approach or system for myself in almost every story. This makes the work intresting and fresh. At the same time, it is hard to make a story with a style that I've already tried.
E: Every frame must say something. Preferably, the story has to be either funny or tragicomical. If not the content then at least the drawings. The story has to be understandable for readers, not only to myself.

What are your current projects?
J: I should make a sequel for the children comic "Bellybutton of the world," because it has been asked for so many times. There has also been a preproduction going on for a longer childrens story, which takes place in pseudo-middle age. I would also like to make a more "serious" graphic novel.

E: The children comic for children magazine "Täheke", ("Star") is continuous process. In the future, I would also like to make comic strips about cooking or family life for, some magazine. There is idea to make comic-cookingbook for children and youngsters.
In adition there will be a large overview- exposition of Estonian comics coming in November, at the Center of Estonian Children Literature, Pikk tänav 73. At the same time, the next Dark Nights Film Festival (PÖFF) will feature Estonian-Finnish shared comics exhibition and a public "comics battle" event. The event is organised by by the Finnish Institute and Union of Finnish Comics.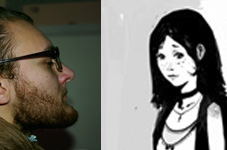 ALEKSANDER ROSTOV
http://kinnas.deviantart.com/
http://za-um.blogspot.com/
I am Aleksander Rostov. I study painting in the university of Tartu. I am a Zaumnik (part of the http://za-um.blogspot.com/ team) , painter, comic artists, video game author, geek, nihilist, decadent and a dandy.

I am Aleksander Rostov and I want to make cool things. When I feel like doing cool things, I remember that performances are embarassing, writing is difficult and slow and I cannot sing. I guess I have to paint then. But painting is bad becuse this art in general is formalistic, it deals with paint, brushes and other formal problems. The idea is always a clumsy one, it just an illustration to some kind of sotry or another idea, or is trying to deal with something through abstractions, somehow get things across. And it is almost always clumsy. I must also note that it's especially embarassing when a painting is self-referencing, like "A painting dealing with the problem of the painting not succeeding in conveying an idea". That is just so embarassing! I am blushing and looking at my toeas, I am trying to hide my eyes and hoping nobody notices me standing near to such a thing. It is sometimes pleasant to try to guess these anonymous symbols, but usually it is just boring. Sometimes there are a few words on the painting itself, but usually they are on some external paper that no-one cares to read. Sometimes several pictures try work together to convey the same idea. The idea is always suffocated by the weight of the medium. But then comics kick the door open and step in. Comics with their leather jackets and impenetrable sunglasses overcomes all of these problems! The number of pictures and natural integrity allows all the possibilities of visual media from verist to abstract symbolism. Cut, smock and paste them how you like! Then comes the video game and beats the comic up, because it's doing everything even More Better! Adding interactivity as an insult to injury.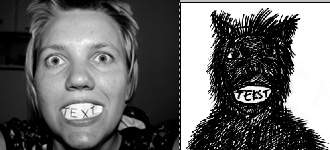 How did you enter the Estonian comics scene?
I'm currently doing very many things. The last 5 years I've worked with youth literature magazine "Fresh Pressure". Because I live in the "Uus Maailm" (a building belonging to the Writers Union), I am trying to give a helping hand and take part of their projects. They have a library "Kapsad" ("Cabbages") that will surely become active in the spring. The past few years I've been also working in "Joonisfilm" animation studio but I'm currently on a long vacation. I'm mainly busy with my own creative projects, whatever it means. I became affiliated with comics when Joonas Sildre (http://web.zone.ee/sildre/) was putting together an exhibition for Estonian Comics in Tartu, Rael Art Gallery gallery.
My plans for future? To draw, draw and draw. To create art and be active. In the middle of June, there will be my 6th personal exhibition "Talking Heads" in the East Creative Space.
Which methods do you prefer for creating a narrative?
I like to write! But very long text are a pain to finish. I need an initiating narrative that I want to convey through drawing. Often the meaning of pictures wouldn't get across without the directing force of the pictures. Usually the ideas come with both words and pictures. It is interesting to experiment and I use various methods for comics, I have no universal recipes.
CHINTIS LUNDGREN
http://vimeo.com/chintislundgren/videos
(her newer animations)
http://www.chintislundgren.com/
(2 year old site with paintings)
http://www.ruubikukuubikuosakondteatab.blogspot.com/
(Blog! )
Chintis Lundgren is a painting artist in crisis, an over-inspired animation director and an animator. She appeared in comics scene while studying in Non Grata art school. Back then, she had no aspirations for animating but the 2000 guys with fast legs drawn on her wall were driving her nuts...

For me, the comic was step towards reaching animation. Currently, when I start with an idea of making a comic, I soon find it has become a storyboard for a new animation and the comic panels are forgotten.The character Montego was created when I was 3 years old and still in kindergarten. I found it before enrolling in Non Grata and discovered it is a wonderful character. I then started to duplicate it on the halls and floors of Non Grata. Billaneeve was another name for it given by the guy with fast legs. I plan to turn the same Montego comic into an animation and finish it in the fall.

Which methods do you prefer for creating a narrative?
I could call it visual semi-automatism, I guess. I begin with characters but without the narrative... I just start drawing and finally end up with a fuzzy story. The absurdism that doesn't make sense is a conscious choice of mine. I generally don't like the stories that are too preaching or "storytelling" and I'm content if people ask what I meant with it and say that they didn't understand a thing.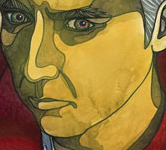 MARTIN RÄSTA
www.mammut.baas.ee
Mammut alias Martin Rästa (1980) - has studied art and graphic design. He's working as a freelance graphic designer and illustrator. He has participated and organised exhibitions since 1999. Maamut is the founding member of Baas, a freelance creative union and member of Baas Multistuudio. This time, he presents a a collection of works called "Awakening", featuring the end of the world and dreams.
Next exhibition: Poster exhibition in the SooSoo gallery a
http://mammut.baas.ee/mmmt10/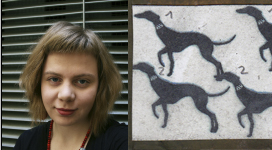 KRISTEL MAAMÄGI
www.pra-ha.blogspot.com
She has studied stenography in the Estonian Academy of Arts and is currently studying in Prague ( Academy of Performing Arts)
Which methods do you prefer in terms of creating a narrative?
I use a variety of sources for the basis of a comic. Sometimes a complete story (as I used Jaak Tomberg's text for creating the needle-threaded comic), sometimes everything begins with a few fragments and then I build a story around them (The Czech comics, for example). I've also used a complete ready comic by giving it a new visual form and therefore a new meaning (e.g. Donald the Duck and Karukarusell). Sometimes, everything begins with somebody's dream (the Universal_Unbolism). With each work, I use the technique that suits it the best. So far I've used drawing, painting, sewing and collage.
Tell us about your backround and interest in comics...
My interest in comics began in the Tartu Art School with the comics lectures of Peeter Krosmann. This interest has only become deeper in time.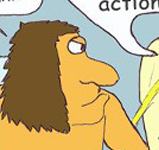 JANAR SAARON
How did you become involved with comics?
I am currently studying public relations in Baltic Film and Media School but I come from Tartu. I've been doodling and drawing for myself the past 10 years. Half a year ago I decided to focus on making real comics and when the first comic turned out better than I expected, it motivated me even more.
I just find comics so easy and exciting to make. I imagine a funny situation in my head and then try to put it into the comics format as best as I can. I currently have no recurring characters, but I have a plan of making a series of comics featuring an Estonia IT-worker called Küllo.
What do you think of Estonian comics?
I haven't explored the Estonian comics much, but when I think about them, I see two categories:
1) Instructive and really sincere comics from the soviet times ( such as "Kurjam ja Nurjam" and "Pontu ja Priidu")
2) Banal and cheap "kick in the butt" and vodka-humour type of comics in local newspapers, such as "Mürakarud, "Pesakond" and "Kosmosemutid". I don't want to say they're bad... several strips of "Kosmosemutid" have made me laugh out aloud, but the other two are often repetitive.
Your next projects?
This summer, I seriously plan to do a number of comics about that guy Küllo I mentioned. Everything takes place in Estonia and reflects things going on in the world. I call it successful when the comic generates enough feedback and I learn something myself too. Link to my stuff: www.toonsup.com/janarhirmus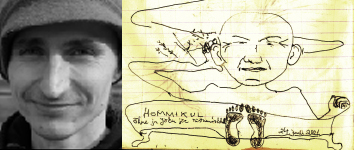 How did you become involved with comics?
I am currently studying public relations in Baltic Film and Media School but I come from Tartu. I've been doodling and drawing for myself the past 10 years. Half a year ago I decided to focus on making real comics and when the first comic turned out better than I expected, it motivated me even more.
I just find comics so easy and exciting to make. I imagine a funny situation in my head and then try to put it into the comics format as best as I can. I currently have no recurring characters, but I have a plan of making a series of comics featuring an Estonia IT-worker called Küllo.
What do you think of Estonian comics?
I haven't explored the Estonian comics much, but when I think about them, I see two categories:
1) Instructive and really sincere comics from the soviet times ( such as "Kurjam ja Nurjam" and "Pontu ja Priidu")
2) Banal and cheap "kick in the butt" and vodka-humour type of comics in local newspapers, such as "Mürakarud, "Pesakond" and "Kosmosemutid". I don't want to say they're bad... several strips of "Kosmosemutid" have made me laugh out aloud, but the other two are often repetitive.
Your next projects?
This summer, I seriously plan to do a number of comics about that guy Küllo I mentioned. Everything takes place in Estonia and reflects things going on in the world. I call it successful when the comic generates enough feedback and I learn something myself too. Link to my stuff: www.toonsup.com/janarhirmus
MARTIINI http://apollo.ee/product.php/0996303
Next project? Participating in exposition: EKLEKTIKA, KUMU, A501, 14.05-10.10.10

Next project? Participating in exposition: EKLEKTIKA, KUMU, A501, 14.05-10.10.10

Advantages of comic as a medium? It allows generalizing but retains the multifaceted meaning of the art. It is difficult for to express myself minimally and stay interesting and understandable. 1 Picture can tell the whole story. That's how they come to me. It is easy to notice these stories but hard to overcome your lazyness and bring it out.
Impression of the Estonian comics scene? Most of Estonian comic artists are "undeground" and there are only a few "regulars" in the newspaper of whom 2 are pretty dull and other 2 are again pretty good.

What is your own direction? I keep doing my things, mixing mixing tehniques both in visual and audio (including radio shows done with dictaphone). Then again, It would be pretty nice to do a full series of drawings. We'll see.

I follow in same way, with mixing tehnizue, in visual and audio. (One old genre, I have been using, is directing audio-theatre plays, recording them. In other hand, I could complete more stuff in drawing tehnique.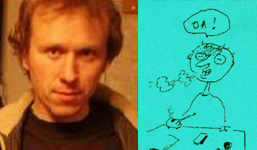 MEELIS KIRSIMETS
I have lived in Järvamaa, Koeru district. I've pept a pen in hands since childhood but really started to draw while styding in Art School of Tartu. In comics, the drawn lines are more important than text, they have more content.
My character Peeter was born in busy times. My classmate Mati, (In Art School of Tartu) got a mobile phone and that was the sign that the speed of information has risen. Characters Abu Simbel and Roger Moore came ealier (1995) and Kreeker even earlier. This March, Kreeker will be 15 years old. That's on 15. march (pretty logical, right?).
The character Kreeker (cookie) was related to the new type of cookies appeared at our local shop and which were advertised shortly "Crispy Kreeker Caleidoscope". Such a thing was unheard of and I reflected this by creating this character. My main bunch of characters were dudes aiming to be cool. This included profanities and violence, mostly aimed at Kreeker and their shared woman Reet. The typical Kreeker jerks looked like this: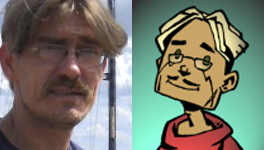 THOMAS SCHIELEKE http://www.perry-rhodan.net/entertainment/cartoons/
Born on 5th November, 1964, in Hamburg. Appeared in Estonia, first from curiosity, 1994, I met my husband and so I stayed. I stydied in Art School of Hamburg, graphic design, started with making comics in the middle of 80-s, the first comic was published 1987 in magazine "Rambock" (in Hamburg). Later on, regularily in editions of "Panel", "Szene Hamburg", "OXMOX" jt., in Estonian magazines: "Mardus", "Pikker", "Täheke", "Õhtuleht" and others.


Impression in Estonian comic field? It is pretty original and I would dear to argue, that still no developed finally. It seems that here is less influences from Belgia France than anglo-america and especially lately from Japan. Also in Germany, it is possible to feel influences from Japan, especially lately, but German comic culture is very strongly related to French and Belgie.

For comparance in Germany...? One of originators of German comic wasi Rolf Kauka ("Fix und Foxi", "Lupo", "Tom ja Piibrisüda"), he was also the first who published in german "Asterixi" ja "Marsupilami". From the newer artists would like to name Matthias Schultheiss'i ( he published maiinly in the magazine "Metal Hurlant"), there has been younger makers coming, massively. Myself, lately I have been engaged with publishing house "Pabel-Moewig Verlag", which published the science-fiction series, which lasts the longest, untill now "Perry Rhodan"

Main comic events in Germany...? Over the 2 years Erlangenis "Comic Salon" takes place. (It is mainly ment as a insider event for authors.) For regular fan, there is "Comic-Börse" in Hamburg. There is possible to order the stuff on the web, from Frieder Maier from Germany and all others. They also are good advisors.

How your warm style was born?:-) Well I become old and warm. One thing more, I try to express myself withouth word, this is what I consider to be the real comic art where is not so much text. What less text then more art.

Is there any difference in drawing for kids or grownups? The difference is, that in my oppinion children are more intelligent that grownups. They can not be convinced to fool so easily.

What about science fiction- comics... do you follow some specific style?
I believe, the style is eaven more important. Look at the numbers of "Epic Illustrated" ori "Heavy Metal" then you will get it. Or "Luc Orient", published by Bastei-Lübbe. "Valerian et Veronique" stays in same line. Same time, from really crappy story, comic is hard to make. It could be nice to watch but it should also have a story. One of my favourites has been Don Lawrence and main favourite of these days is J.-M Charlier'i ja V. Hubinon'i "Buck Danny". That line could continue endlessly. http://www.perry-rhodan.net/entertainment/cartoons/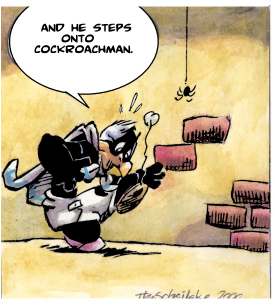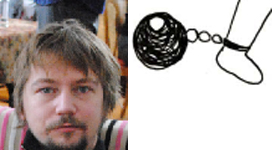 JASPER ZOOVA http://www.divedivedive.org/art/jasper-zoova
How did you enter the comic field? I made comics in Art School for Children. Then I found syrrealism. The first comic character was Salvador Dali, who swallowed himself.

Creative plans? The next plan is to finish a series of paintings called "Thinking stations" which could also be called a comic. Exhibition takes place in May, in Kumu, New Art Gallery of Estonia. This is what I am currently working on.

My Impression of the Estonian comics? I have been influenced by our classic, Olimar Kallas. His "Try-out-ride", "Adventure in Sekontia" and others inspired me a lot. Currently, Estonian comics are very eclectic. I like it a lot.
What principles are you following to put the story together? I usually start from the character and then make him or her into a story. The beginning and the end can be switched. I love the feeling of infinity that's possible in storytelling. The best way to get it is repetition, a loop. I've engaged narration also in the fairy-tale form. The series "Trip to who knows where" speaks of the adventures of an imprisoned joker, who travels into the city of blind children, to the desert, to far and wide; and finally makes it into a temple. I've been inspired both by fairy-tale literature and Walt Disney.
What is an ANTI-comic? I imagine it's a piece of music, a barcode transformed into a symphony.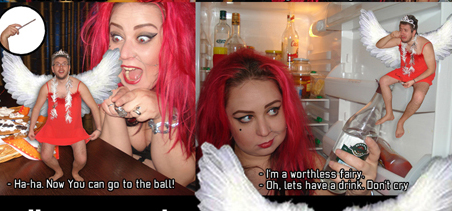 Who are these two interesting people who suprise their friends with a new comic every year? Liina Paakspuu and Arian Levin of course. Their super-polite comics in greeting card format are known to more than a few. Creating such stuff is great fun for the couple who are usually busy with films and filmmaking.

Yoshi (1988, Vilnius, LT)
According to Gediminas Šiaulys she is "... the best contemporary Lithuanian comic artist."
They both are making cowork for Lithuanian graphic-comic magazine "Medus"

http://medusblog.wordpress.com/
♥LABEL:
www.yukimode.net
´"I am drawing since my hand could hold the pencil. My older brother used to make hand-drawn newspapers and I helped him to copy the pages for a bigger edition. I was sacked because every copy would come out totally different from the original. Some years later, my parents lured me into local art school, I tried many years to escape by making it as a professional basketball player, but failed.
My first pet Yuki (RIP) inspired me to found an independent comix& zine label "Yukimode". Yuki ran away on this Christmas Eve and never came back, so the label is dedicated to a memory of the most perfect black cat I've ever met. At the moment, I am continuously working in the field of storytelling, besides it, I am reuniting my graffiti team and practicing amateur tattoos on my friends'. My everyday-normal-boring-london-
guy-job is a freelance illustrator/creative.

My comics are published in Kush magazine (Lost in the city & After Snowfall Issues), Blutt Magazine (Dismissed Issue), Children Rights & Duties book (

Lithuania

). My first graphic novel is featured in Medus book (

Lithuania

).
Last year, I participated in my first comix festival Crack! in (Forte Prenestino, Rome)."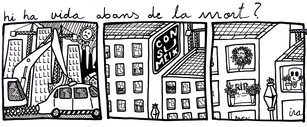 "Is there any life before death?" LA IRA
He is artist from Barcelona, Catalonia, having residency in Netherlands, Amsterdam.
some of his works on website:
http://monmort.blogspot.com/
ALAR PIKKORAINEN
He was born 8. February 1968, in Rapla, Estonia. He'ss been hunting for ideas or making designs in various advertising agencies since 1994. His "Suburbian Hags" ("Kosmosemutid" in Estonian) are a well-known series and has been published for years. They are one of the few Estonian comics available as separate books.
ALAR SAPELKOV
Comics are not an idee fixe for me, they are an opportynity to tell stories created by my imagination. It is nice to play god for a bit, right? To give life to your characters, determine their destiny and also inspire, amaze or even shock those who like the stuff you do. My own life is also a fairy tale, so to say. Some day, my life and doings will be told to someone, my adventures will be approved or disapproved. And it's not important to always have everything done properly, it is important to tell your life story well. Some failures will only improve your story.
LEONHARD LAPIN

He is the "Grand Old Aartist" of Estonian Fine Arts scene. The works represented
in Comic Bienniale are a style-sample of comics he made in his youth. He has claimed to be "the very first artist who made comics in Estonia" and the piece in this issue is dated back to 1970.
This "protest-comic" is made as collaboration with another artist Vilen Künnapu.
"The travelling of birds" was made in 1970, while listening to the soviet political lectures (which were obligatory to everyone) in the Institute of Arts.

MARKO KEKISHEV
I was born in 1977 and I live in Tallinn. I studied media & advertising in Tallinn University and I work as the creative director of advertisement company Vatson Wunderman. I've been drawing Pesakond more or less successfully since 1994, the result being 3000 strips, 10 small comic books, 2 comic books and 1 exhibition. (The author of the above poster for Pesakond is Martin Kekishev).
nb! The list of interviews will be complete on 16 April 2010...