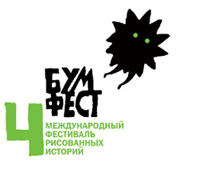 KOOMIKSIBIENNAALI erikülaline:
St. Peteburi rahvusvaheline koomiksifestival:
"Boomfest 2010"
www.boomfest.ru
In September 2010, in St. Petersburg will be the fourth international comix festival Boomfest. The festival will cover multiple venues and public spaces of the city – museums and galleries, shops and cafes, streets and parks – the most picturesque places of the historical center of St. Petersburg.
The exhibition part of the festival will run from September 10 to October 17. The festival itself, including rich program of meetings, workshops, lectures and performances with Russian and foreign artists participation as well as comics fair will take place since September 24 till September 26 and will be wide audience oriented. This year's special guest will be France, which is one of the capitals of comics culture. Organized exhibitions and numerous meetings and workshops will enable all who wish to obtain the maximum understanding of the culture of 9-th Art of France.
Also during the festival from March to August there is a competition, which is primarily targeted at young comics artists. Theme of the contest will be announced in March.
Reference:
International festival Boomfest was initiated in 2007 by a group of enthusiasts who set a goal to create an event which would enable all comers to learn about world culture of cartoon stories.
During three years within the framework of the festival there were arranged more than 30 exhibitions, among which "Exhibition of comics about Mumiy Trolls", "Cartoon poem of Dino Buzzatti", "Manga "Crime and punishment"", "Bille noire 10x10", "Magazine "Mukha" – Russian comics of the beginning of the 90th" and others. On the Boomfest exhibition grounds took place personal exhibitions of such artists as Davidа B. (France), Gary Baseman (USA), Mawil (Germany), Oleg Tischenkov (Russia), Lena Uzhinova (Russia).
During 3 years within the framework of the festival there were arranged over 30 exhibitions masters and young comics artists. In addition, there were more than 60 lectures and whorshops held by comics artists and specialists in the range of comics from France, Germany, Belgium, Holland, Italy, England, United States, Canada, Czech Republic, Sweden, Finland, Norway, Estonia, Latvia and Russia.
Contacts:
Festival site: www.boomfest.ru
Festival director
Dmitry Yakovlev, e-mail: dmitry@boomfest.ru, tel. +7 921 3434565